Makerbot Replicator + Desktop 3D Printer - MP07825
SKU:

MP07825

UPC:

817913013498

MPN:

MP07825

Shipping:

Calculated at Checkout
Frequently bought together:
Description
Makerbot Replicator + Desktop 3D Printer
MakerBot Replicator + won the best 3D printer for schools 2017 . That's because no other 3D printing manufacturer has invested so heavily in building a dedicated ecosystem for the education space.
Taking the printer in isolation we have a device with safety features optimized for the classroom. There's a removable flexible bed that isn't heated; an extruder where the hot-end is out of reach of curious fingers; and a semi-enclosed build-space that protects the build area from foreign objects.
Moreover there's a cloud-based slicing option where a model can be selected on Thingiverse and sent directly to the Replicator via a dedicated smartphone app. Everything can be monitored on your smartphone.
But the icing on the cake are the tools around it; a dedicated education space on Thingiverse with STEM projects to make learning fun plus an educator's handbook to help teachers with core concepts around 3D modeling and printing. The company will even help you find grants to fund a MakerBot in your classroom. Contact AV Mart today.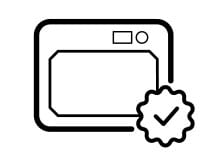 The easiest-to-use 3D printer package designed with both educators and students in mind
Standardized features for easy classroom 3D printing
Reliably tested for over 400,000 hours
Classroom-safe materials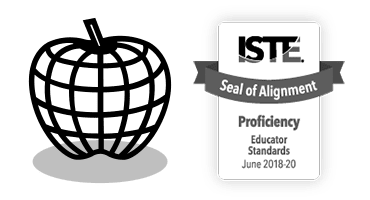 Comprehensive lesson plans and 10-hour 3D printing and curriculum creation training included
The MakerBot Certification for Educators
The MakerBot Educators Guidebook™ digital
MakerBot Thingiverse Education™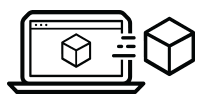 The Makerbot Replicator + delivers seamless classroom management
MakerBot Cloud™ integration
Print from TinkerCAD™ integration
Industry leading support
User friendly features for easy and accessible 3D printing
The MakerBot Replicator+ has many features that combine to make your 3D printing easier and accessible than ever before.
LCD display – provides easier set up and maintenance of your 3D printer
On-board camera- Allows you to remotely monitor your print progress
USB, ethernet and WIFI connection
Flexible buildplate
Classroom Safe Materials
Powerful software package
Hundreds of lesson plans and ideas via Thingiverse
The Educators Guidebook
Industry leading local Australian warranty and support
Print High Quality Concept models
The MakerBot Replicator+ prints high quality concept models fast. Combining excellent print adhesion for smoother prints, a flexible build plate for easy release of your prints, and quality filaments that ensure you get the results you plan for. In addition, with multiple extruders available, including the experimental extruder, the MakerBot Replicator+ from AV Mart gives you flexibility and freedom when it comes to 3D printing materials.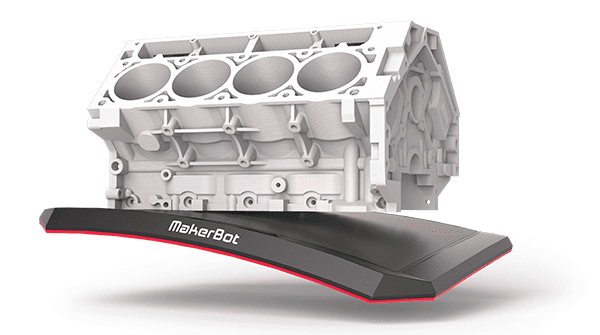 3D Printing that is safe for you and your students
The MakerBot Replicator+ uses safe and non-toxic filament, which is both non-toxic and easy to print with less warping and curling. Combined with MakerBots powerful software package, this will provide outstanding print quality, a reliable user experience, and let you get on with teaching.
Elevate STEM learning in the classroom with the Makerbot Replicator +
The MakerBot Replicator + provides incredibly easy to use features. It has been designed with both teachers and students in mind. The Replicator+ is easy and fast to set up and use straight out of the box, with user friendly step by step instructions. It is an instant-on printer, for easy 3D printing in the classroom. MakerBot is a certified Google For Education Partner, and provide hundreds of Classroom 3D printing lesson plans via Thingiverse and our own MakerBot Educators Guidebook.
The MakerBot Educators Guidebook
The MakerBot Replicator plus from AV Mart Australia is the prefect partner for the Educators Guidebook, the definitive guide to 3D printing in the classroom. The Educators guidebook is your manual to 3D printing success. It provides easy to follow instructions on getting the best out of your MakerBot 3D printer. It includes an Introduction to 3D design tools and provides 3d printing projects for your classroom.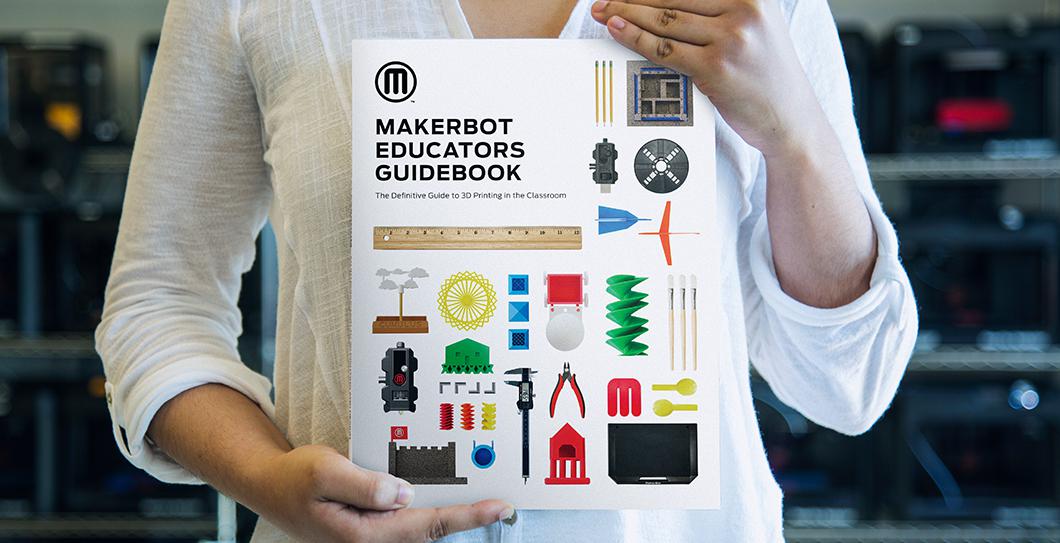 Smart Extruder+
The Makerbot Replicator + comes with the Smart Extruder +, for consistent 3D printing performance . This extruder is easy to attach, accurately detects issues, and pauses your print when you run out of filament or when an error occurs.
The Smart Extruder+ has had over 160,000+ hours of rigorous testing and delivers dependable, consistent performance with superior results using MakerBot PLA Material. In addition, the Replicator+ is compatible with the Tough Smart Extruder+ and the Experimental Extruder, for the ulitimate printing freedom using different materials. Our extruders are hot swappable, making it easy for you to switch between different extruders according to your needs. Find out more about the Extruders available with the Replicator+ by contacting AV Mart Australia.
Powerful Software Package
Streamline the 3D printing process for your MakerBot REPLICATOR +with MakerBot's advanced tools and software, including MakerBot Cloudprint, MakerBot Print, and MakerBot mobile. Print and monitor your project remotely, using your smart phone or the internet
MakerBot Cloudprint ™
MakerBot CloudPrint ™ allows teams to collaborate and share access to MakerBot 3D printers anwhere, even when working remotely.
MakerBot Print
MakerBot Print is free software that streamlines the 3D printing process for any workflow. It allows you to prepare, manage, and share 3D prints.
Flex Build Plate with Grip Build Surface
The MakerBot Replicator + comes with features designed to make the #D printing process easier, like our innovative flexible build plate. Our build plate includes the new Grip Surface, which makes prints adhere better, with no need for tape, resulting in reduced warping and curling. Prints are also easier to remove with the new bendable Flex Build Plate. The large build plate is also factory-leveled so your Replicator+ is ready to go right out of the box.
Classroom Safe Materials
The MakerBot Replicator + is optimised to use MakerBot PLA material. This 3D filament is both non-toxic and easy to print with less warping and curling. Combined with MakerBot's powerful software package, this will provide outstanding print quality, a reliable user experience, and let you get on with teaching.
Discover millions of 3D printable objects with Thingiverse
Thingiverse is MakerBot's own 3D printing community. It is also the largest with over 2 million 3D models. You can find almost anything to print, and you can also upload your own 3D printing designs and share them with the world.
Print Technology
Fused Deposition Modeling
Build Volume
29.5 L X 19.5 W X 16.5 H CM
[11.6 X 7.6 X 6.5 IN]
9,492 Cubic Centimeters
[573 Cubic Inches]
Layer Resolution
100 microns [0.0039 IN]
Material Diameter
1.75 mm [0.069 in]
Material Compatibility
MakerBot PLA Material - Large Spool, Small Spool
MakerBot Tough Material - Large Spool
Additional materials such as bronzefill, copperfill, and woodfill (visit MakerBot Labs)
Extruder Compatibility
Smart Extruder+
Tough Smart Extruder+
Experimental Extruder
Nozzle Diameter
0.4 MM [0.015 IN]
Print File Type
.MAKERBOT
TEMPERATURE
Ambient Operating Temperature
15­-32°C [60­-90°F]
Storage Temperature
0­-38°C [32-­100°F]
SIZE & WEIGHT
Product Dimensions
52.8 L X 44.1 W X 41.0 H CM
[20.8 X 17.4 X 16.2 IN]
Shipping Box
61.6 L X 52.4 W X 57.9 H CM
[24.3 X 20.7 X 22.9 IN]
Product Weight
18.3 KG [40.4 LBS]
Shipping Weight
(Includes Accessory Kit)
22.8 KG [50.2 LBS]
MECHANICAL
Construction
PC ABS with Powder-Coated Steel Reinforcement,
Aluminum Casting and Extrusions for Motion Components
Build Surface
Grip Surface
Build Plate Leveling
Factory Leveled
Stepper Motors
1.8° step angle with 1/16 micro-stepping
XY Positioning Precision
11 Microns [0.0004 IN]
Z Positioning Precision
2.5 Microns [0.0001 IN]
View All
Close