Ricoh Fujitsu ScanSnap iX1600 Document Scanner
SKU:

PA03770-B401

UPC:

4939761311758

MPN:

IX1600

Condition:

New

Shipping:

See shipping calculator below ↓
Customers also purchased...
Description
Ricoh Fujitsu ScanSnap iX1600 Document Scanner
Intuitive scanning at your fingertips
The Ricoh / Fujitsu ScanSnap iX1600 is the evolved flagship model of the ScanSnap series, enabling scanning at higher speeds of 40 ppm/80 ipm (A4-size documents, color, 300dpi). It comes with the all-familiar 4.3-inch touch screen to bridge the gap where the physical and digital meets. The iX1600 from AV Mart Australia comes with Wi-Fi connectivity, making it the perfect model for team sharing and combined use with cloud services.
Is the Ricoh ScanSnap iX1600 the same as the Fujitsu ScanSnap iX1600?
The answer is yes. Fujitsu scanners now rebranded as Ricoh as of April 2023 - More details can be found by clicking here>


ScanSnap iX1600, evolved flagship model of ScanSnap Series, enables scanning at higher speeds of 40 ppm/80 ipm (A4-size documents, color, 300dpi), 33% faster than its predecessor, iX1500. ScanSnap-dedicated software, ScanSnap Home has undergone some exciting improvements with better functionality, usability, and stress-free operation with faster startup times and Searchable PDF generation. Look forward to creating Searchable PDFs with ScanSnap Home 2.0 now capable of turning out 10 pages (20 sides) in a mere 25 seconds*3. Scanning is exceptionally easy with one-touch of the profile icons on the easy-to-read 4.3-inch touch screen. The iX1600 from AV Mart Australia allows multiple users to filter through the set profiles to display personal icons for easy operation. In addition, Wi-Fi (2.4/5GHz*4) compatibility allows you to connect*5 wirelessly to your computer and smart devices via Cloud for quick access to documents, anytime, anywhere.
-Intuitive 4.3-inch touch screen
-Wi-Fi (2.5/5GHz*)compatibility
-Speedy scans up to 40 ppm/80 ipm (A4-size documents, color, 300dpi)
-50 sheets Automatic Document Feeder (ADF)
-For both individual and team use
-Ultrasonic Sensor and high-quality Brake Roller for stable feed
-Receipt Guide provides stable scanning for inconsistent paper sizes
-Streak Reduction producing clean images
-Best experiences with ScanSnap Home
-Conventional software ScanSnap Manager also available
-Connect to ScanSnap Cloud without the PC
Key Features
iX1600
ScanSnap iX1600 is Ricoh / Fujitsu latest flagship model in the ScanSnap Series. It offers a comfortable scanning experience with a 4.3-inch touch screen and Wi-Fi connectivity. Profile icons on the touch screen can be customized to suit your needs. Data organization and utilization are complete just by one touch.

Ideal for team sharing
A perfect model for team sharing and is ideal for organizing documents in the office and at home. Filter through the set profiles to display personal icons for easy operation and select the device you would like to scan to. 4-user licenses are included with the Ix1600 from AV Mart Australia as a standard for multiple users, and it can be used in combination with cloud services.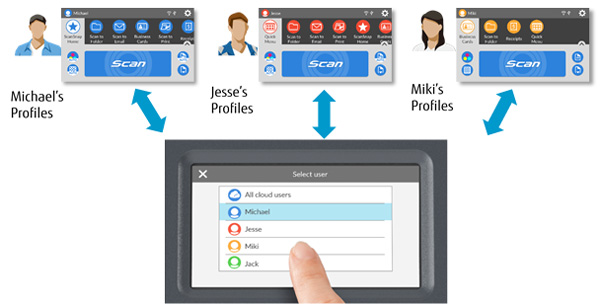 Optimized user experience
ScanSnap iX1600 from AV Mart Australia comes with a 4.3-inch touch screen and provides ease-of-use so that users can complete scanning to data utilization, with just "one touch".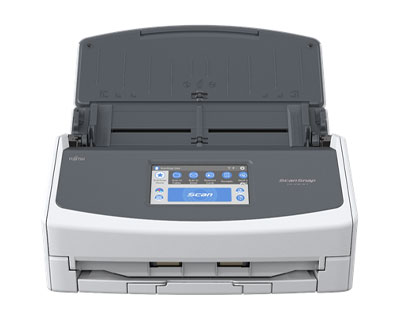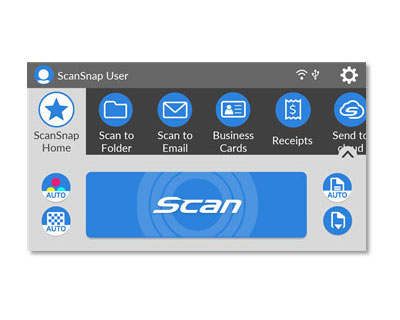 Customize to your preference
The device comes with around 30 profiles by default and enables up to 30 customizations. Customize the profile icons on the touch screen according to your scanning needs from data organization to utilization.
Scan anywhere you want whenever you want
You can connect a single computer to the iX1600 via USB, or a computer, mobile device, or wireless network via Wi-Fi. Ricoh's ScanSnap Connect app runs on most smartphones and tablets and has many of the features of the ScanSnap desktop app. Wi-Fi (2.4/5GHz*1) compatibility allows you to directly connect to your smart devices*2 or cloud services*3 without PC. While the device uses existing Wi-Fi environments in Access Point Connect Mode*4, connection is also possible in environments without Wi-Fi using Direct Connect Mode, as the scanner itself functions as an access point.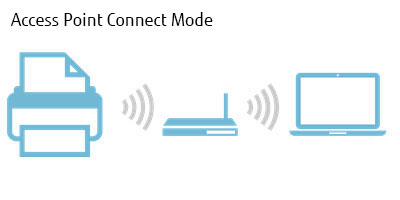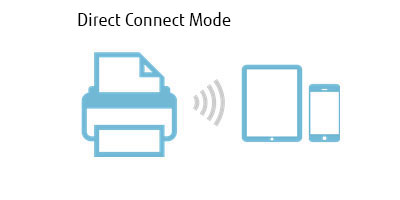 *1 Availability may vary depending on region. 5 GHz Wi-Fi is not available with Direct Connect Mode.
*2 The ScanSnap Connect Application is required when using smart devices.
*3 Available services vary by region.
*4 Access Point Connect Mode requires a Wi-Fi access point or router.
Ideal for team sharing
A single unit with company colleagues and family members with 4 users licenses*. Filter through the set profiles to display personal icons for easy operation.

*It comes with multiple software licenses: 4 for ScanSnap Home, 4 for ABBYY FineReader for ScanSnap™, and 1 for Kofax (Win/Mac). Additional licenses may be purchased for ScanSnap Home.
Stress-free usability for any users
The iX1600 comes with an intuitive interface that is easy to use and provides you with a peace of mind while you carry out your tasks.
Steady and versatile paper feeding
Inheriting the Ultrasonic Sensor and the Brake Roller from our business scanners, the iX1600 continues to provide superior reliability for various paper types. Each paper is fed individually to prevent feeding errors.

Have images clean all the time
Receive notifications on the touch screen whenever Dust Detection spots dust that may result in streaked images. Maintenance notification beforehand enables you to reduce the hassle of time-consuming rescans.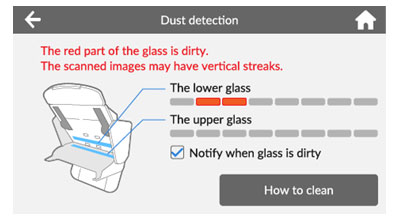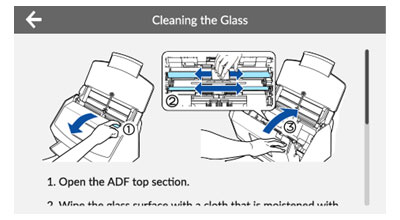 Even if streaks do appear on scanned images, the Streak Reduction function removes them, reducing the hassle of time-consuming rescans

Scan receipts and much more
Scan documents larger than the typical A4 size that need to be folded in half, envelopes and much more with Manual Scan Mode. Documents that are typically difficult to scan in Normal Scan Mode can now be captured without any issues. The iX1600 from AV Mart Australia effortlessly scans small documents with the Receipt Guide. No need to be concerned about fixing receipts and business cards that tend to curl or skew. Designed to be a comfortable fit even when the cover is closed, it reduces handling of documents before hitting the scan button.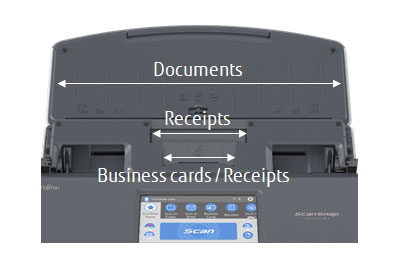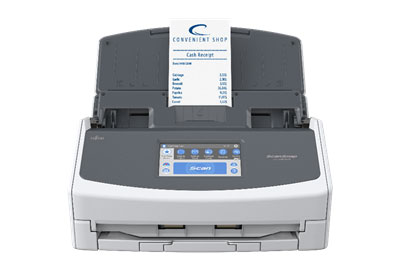 Best experience with ScanSnap Home
ScanSnap Home combines all your favorite functions into one and is the ultimate platform to utilize scanned data in various ways. Easily manage, edit and utilize data from documents, business cards, receipts and photos with the software. You can scan large volumes of various types of documents from color photos to double-sided landscape documents with a host of intelligent automatic image processing functions.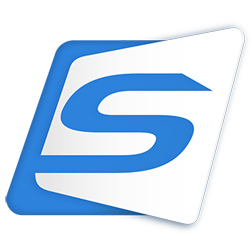 Connect to ScanSnap Cloud without the PC
ScanSnap Cloud delivers scanned data directly from your ScanSnap iX1600 to your favorite cloud services without a computer or mobile device. The software automatically classifies your file type by documents, receipts, business cards and photos, and sends it to the appropriate cloud based on your pre-set profiles. You simply need to select a profile that is set to connect to ScanSnap Cloud and press the Scan button on the iX1600's touch screen. Your scanned data can then be managed within your selected cloud service.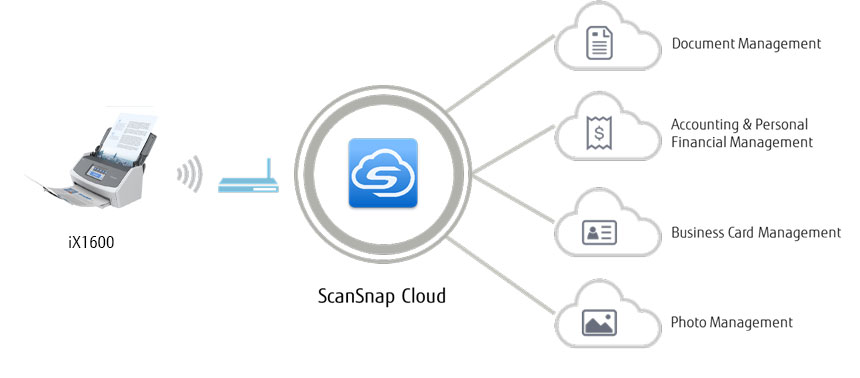 Ricoh /

Fujitsu

iX1400 vs iX1500 vs iX1600 Comparison and differences
(1) Available color varies by region.
(2) Switch via touch screen or long press of the scan button. Scanning using carrier sheets (option) is also possible.
(3) Carrier sheets are not included with the iX1400.
More
Close
Warranty Information
1 Year Warranty
More
Close
9 Reviews
Great hardware, alright software

Using the official software (ScanSnap Home), when you manage to set it up how you like, its easy enough to use, the profiles make organizing your scans quick enough, and the image quality is great for the price. Colours are more accurate than my all-in-ones flatbed scanner, and the detail is about the same, which is good enough. Image quality could be better, but I dont have experience with other scanners (whether flatbed or ADF), so I dunno whats reasonable to expect at this price point. Im still very happy with the image quality though.

I reckon the hardware is great, but its a little let down by the software/firmware. Its nice that we can set the DPI, colours, and scan type with the touch screen, but if you want different JPEG compression levels or increased contrast for text readability, you need to set up profiles for them. Probs not a big deal for a lot of people, but Im quite anal about picking the right settings for each scan job, leading me to create so many different profiles. Theres a limit of 30 profiles too, which I think is barely adequate for my use.

The window that pops up after each scan is adequate but not great. Be careful not to try changing pages in the preview because if you have more than 4 pages, you are gonna be waiting a while for it to process. Clicking the edit button to go into the full editor, it loads instantly but the UI is annoying, and I wish it had more options such as making individual pages greyscale, or even changing the compression levels or DPI.

Otherwise Im extremely happy with my ix1600. Its my first ADF, which let me go through my whole house and totally clean out meters-tall stacks of paper. My life is practically paperless now since it makes scanning super-quick and low-hassle (all things considered), and honestly, I never realized just how awesome a big touchscreen is on an ADF. Do not cheap out by getting an ADF without one (or an equally good interface).

Very happy with my purchase. Fast delivery and the scanner has exceeded expectation. Very fast and nice looking machine. I would happily recommend this scanner to anyone needing fast scanning.

Works perfectly and is quite simple to use. Setting it up was easy. Very useful for my small business. Scanning 500+ pages is a breeze now.

Brilliant device. Would like Fujitsu to also provide a TWAIN interface so that I can have some of my Applications import direct to particular database files. (This is available as third party but costly and messy).

This thing scans beautifully.
It automatically places documents in my Google cloud where they are automatically OCRd.
I didnt bother using the software that comes with it.

Good software, good scanner!

Recently bought two scanners. Epson and this. Due to issues with the competition we went with this for second scanner. Software is almost plug and play. Great integration of apps. Love the touchscreen in a row of 4
Computers sharing the scanner

Excellent scanner. Coming from a multifunction printer to this has been a dream. Highly recommended.

The latest scanner in the Scansnap range. Brilliant piece of hardware.

Great unit for the price. Very fast scans and easy to use. Coming from a multi function printer this scanner is far superior and makes scans of my A4 documents much easier. Good product and thanks for the speedy shipping too.
More
Close